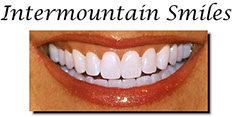 General, Implant and Cosmetic Dentistry
Dr. Barton G. Parker
Dear Valued Patient,
For over 34 years my staff and I have felt it a great privilege to provide you and your family exceptional dental care. It is with mixed emotions that I am announcing my retirement from dentistry. Because I want to be certain that you continue to receive the best possible care, I have carefully evaluated a number of candidates. I am now thrilled to announce to you the acquisition of our dental practice by Dr. Ben Young at Intermountain Smiles in Sandy, to create an exciting new full service dental practice that will continue to offer you quality, personal dental care together with the latest in dental advancements and technology.
Dr. Young and I will be working together with our combined staffs for the next few months until I fully retire, after which time
Dr. Young will take care of all your dental needs.
Beginning June 6th, my staff and I will join Dr. Young's beautiful office which is adjacent to the Sandy City Hall, just a few minutes from my previous location on Redwood Road. We are excited about this new opportunity to provide you with upgraded dental facilities and technologies, and are certain you will be pleased as well.
Please make note of our new office location in the One Sandy Center building:
Suite #525
Sandy, Utah 84070
To reach us by telephone you can continue to use our 801-566-7000 number or our new Sandy number at 801-352-8288. Also, please note that in order to better serve you, all existing patient records will now be available at our new Sandy location.
Again, we are thrilled to be able to continue to serve you with all your dental needs and we look forward to seeing you soon. Thank you again for your loyalty and confidence. I will miss all of you very much and I know you will really like Dr. Young.
Sincerely,
Dr. Barton G. Parker and Staff (Luby, Jennifer, Spring, Haley, Brittany)